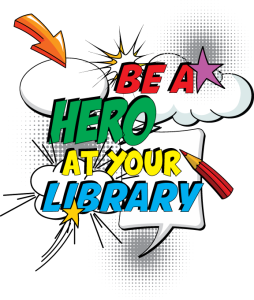 This summer the children of Payson are invited to Be a Hero @ the library! Children ages 12 and under can sign up and read for prizes. Non-resident families who have purchased a library card will also be able to participate. Registration for the program will begin May 26 at the Library. The reading program will start on June 1 and run through the end of July. If you have any questions please call us.Children read for prizes during June & July. We ask that they read (or are read to) 5 days a week for a minimum of 20 minutes. Each child will set their own reading goal for how much they would like to read each day. Each week that they reach their goal, they can bring their reading logs in and get a prize.
Summer Story & Craft Time
Story & Craft Time this year will begin the first week of June and continue through the month and we will also have it the 2nd and 3rd weeks in July @ 10:30 & 11:30 am on Tuesdays & Wednesdays. We have a limit of 50 kids in each session, first come first serve. This year we will be having two different age groups, one for younger kids (2-7) and one for older kids (8-12).